It is with a great sense of pride that I write to you as the Executive Headteacher of both Oldfield Park Infant School and Oldfield Park Junior School respectively. Indeed, although we share common values, history and the wonderful community of Oldfield Park, they are two seperate schools. For this academic year I have been seconded to be headteacher at both schools which is an immense honour and privilege.
Oldfield Park Junior School, sometimes referred to as OPJS, is a community school for children from the ages of 7 to 11 years old (Key Stage 2). The schools is proud to be part of the Palladian Academy Trust (PAT) alongside 9 other schools and do follow the tab on the side to learn more.
---
As the timeline below illustrates, OPJS has diligently and proudly served the local community since 1893, starting as South Twerton School and, in more recent and modern times, as Oldfield Park Junior School. Our distinctive and iconic buildings are listed with the English Heritage as a Building of Special Architectural or Historic Interest.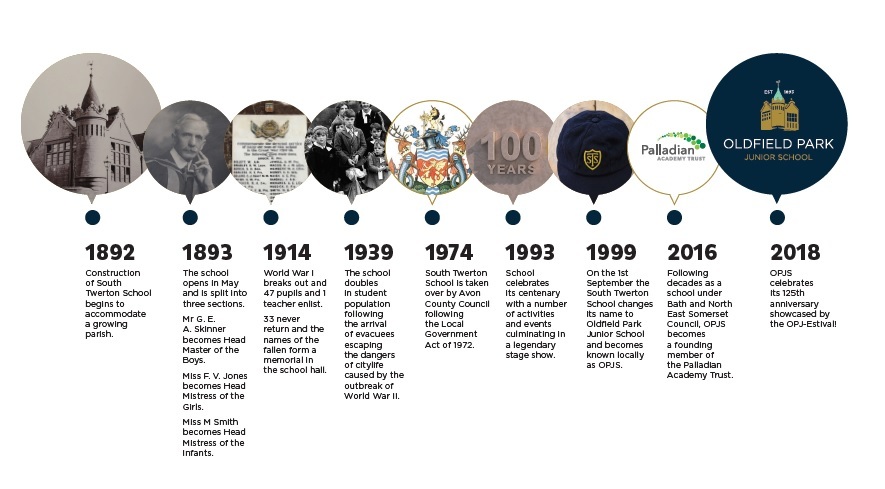 Many generations of families have attended our school through the years creating a warm and lasting atmosphere and sense of belonging to a vibrant, caring and welcoming family and community. Everyone in the OPJS family is committed to our mission statement of
'Inspiring Excellence, Achieving Together'.
We learn together through our 'Engaging Curriculum' with exciting 'Spectacular Starts' and 'Fantastic Finishes'. We take care of each other, are responsible for ourselves and each other and support each other in everything we do.
If you are discovering who we are I hope our website will enable you to start to get to know us. If you would like to come and visit us you are more than welcome. Indeed, please do not hesitate to contact our School Office on:
Telephone: (01225) 423477Email: office@oldfieldparkjuniorschool.com
We are all exceptionally proud of our school and it is a true privilege to be Headteacher of this great school within our great community. I invite you to enjoy finding out about OPJS and keeping up to date with all our news and events.
With every good wish,
Mr Dave Goucher
Executive Headteacher.