At OPJS we believe in a broad and balanced curriculum to ensure that our children enjoy and immerse themselves in education and learning. The policy highlighted below illustrates our approach to this and to ensuring the very best for the children in our care.
---
The vast majority of subjects, and related objectives and outcomes, are taught and delivered through a thematic approach. Although Maths is taught as a discrete subject across the school through our TOTEM approach (Talk, Outside, Theme, Engagement and Movement). There are six separate termly themes, each with a designated book for each whereby work recorded and assessed. The themes are organised as follows:
2020 - 2021 Topics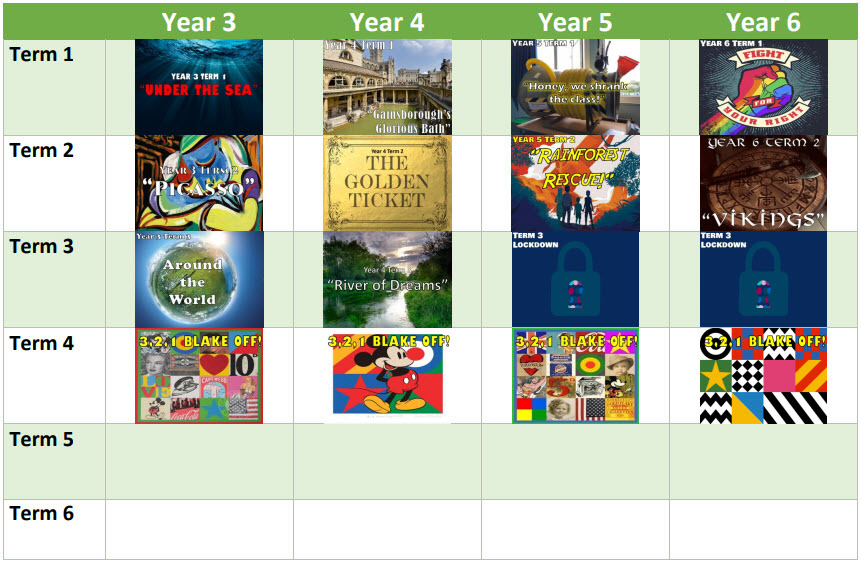 ---
The OPJS curriculum also includes:
A weekly lesson of French and are also exposed to other languages through 'Language of the Term', language based visits to local secondary schools and 'European Day of Languages'.
Two hours of curriculum time PE.
A discrete weekly PHSE and RE lesson that follows the relevant and national curriculum.
Y5 participate in a weekly 30 minute swimming session at a local pool.
A weekly wellbeing session 'Feelgood Friday' that focusses upon health and wellbeing of all.
Each term OPJS holds an 'Enrichment Day' whereby, as part of the broad and balanced curriculum, a range of different activities ranging from Animation through to Yoga take place. The aim of this day is to expand our children's horizons even further! Snapshots of some of the activities are below and thank you to Mr Newman for organising as well as the whole staff for providing these great opportunities!
Follow the links below to access both the class and subject pages of our website: