Year 4 - Jade and Riddell
We (Mrs Green, Miss Fox, Miss Mansell and Mr Wallis) are delighted to be leading the Year 4 team and are excited to be a part of the children's learning experiences this year. We are always around to support both you as parents and the children; if you need anything then don't hesitate to drop us an email or see us at the end of the day on the playground.
Keep an eye on the page for updates throughout the year.
Useful links
Maths:
Topics and Computing:
English:
Cultural Capital:
Year

4

Homework
Reading:
Spellings:
Current term:
Yr4-Spelling-activity-ideas.pdf
Previous terms:
Year-4-Term-1-Spelling-List.pdf
Year 4 Term 2 Spellings - Infantry Group
Year 4 Term 2 Spellings - Cavalry Group
Year 4 Term 3 Spellings - Evaporation Group
Year 4 Term 3 Spellings - Condensation Group
Year 4 Term 4 Spellings - Daisy Group
Year 4 Term 4 Spellings - Fairy Group
Year 4 Term 5 Spellings - Light Group
Year 4 Term 5 Spellings - Buzzer Group
Term 6 What's Athen'ing?
Home Learning Week beginning 12.07.2021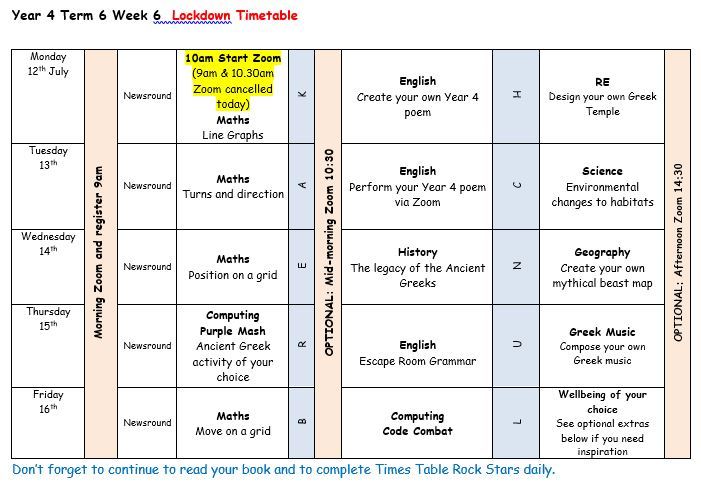 Timetable in case you would like a printable version.
Monday:
Maths - Line Graphs pdf and optional extra activity (make your own line graph)
English - Poetry
RE - Temple Design
Tuesday:
Maths - Turns and Directions and activity sheet
English - This will be a zoom lesson at 10:30am so that we can hear some of your poetry from yesterday being performed.
Science - Environmental Changes to Habitats
Wednesday:
Maths - Position on a Grid pdf and activity sheet
History - Legacy of the Ancient Greeks
Geography - Mythical Beast Maps
Thursday:
Computing - Purple Mash: Log on to your Purple Mash account at www.purplemash.com, (email us if you cannot find your log in details in your Reading Record.) Once on the Purple Mash Home Page, click on Topics, History, then scroll down to Ancient Greeks. Take your pick from anything that interests you on this page. You can complete more than one if you would like to - they all look great!
English - Escape Room Grammar and the answers
Music - Greek Music
Friday:
Maths - Activity Day! and treasure hunt sheet
Computing - Code Combat: Log on to your Code Combat account and keep working through the levels improving your coding skills the whole way.
Wellbeing - Choose something that would be good for your Wellbeing. Everyone is different so what is calming for one person is different for another. You might feel that watching a film would be calming for you or maybe reading, or playing with your toys. The choice is yours. If stuck for inspiration, check out our Optional Extras below.
Optional Extras:
Greek Audio Stories - BBC
Art - Have a go at any of the art videos from the Art Hub YouTube channel. They offer step-by-step guides to drawing all sorts of things. Find the link below:
https://www.youtube.com/channel/UC5XMF3Inoi8R9nSI8ChOsdQ
Film time - It is afterall the end of term and I'm sure we may have watched a movie at some point this week. Why not take a look at any of the following movies which have an Ancient Greek theme - be sure to check with an adult that they are happy for you to watch them first though! :
Jason and the Argonauts (Rated U)
Disney Hercules (Rated U)
Percy Jackson films (Rated PG)
Maths - Have a go at some of the maths games from the NRich website. Find the link below:
Wellbeing - Find below a list of ideas that you could have a go at or adapt to suit you:
Make a poster/list/PowerPoint showing: 5 things you can see 4 things you can touch/feel 3 things you can hear 2 things you can taste 1 thing that you can smell.
Draw a picture of what you can see out of your window. What do you notice, what interests you, what surprises you?
Make a poster of all the people you are thankful for. For example your teacher, the postman or the person that delivers your weekly food shop.
Express your internal feelings by creating a comic for children on managing this situation of temporary isolation, who are villains and the heroes? Paint, draw or write it.
Together with your friends (perhaps a video call) take it in turns to share your favourite funny memories of school in year 4.
Create a healthy eating menu to cover a day or a whole week.
Home Learning from 08.07.2021
Friday 9th July 2021
Today would have been our Olympic themed Sports Day so we have created a sports day themed lesson for you to complete throughout the day. Let's get started - get your PE kit on, get warmed up and follow this link! Don't forget your drinks and snacks and may the best team win...
Thursday 8th July 2021
English Letter to your new class teacher Accompanying sheet for gathering ideas should you need it.
Times Tables Rockstars (TTRS)
Computing: Code Combat (all logins are in their reading records).
Today would have been our library day, so please complete some reading at home, if you would like, create a book review.
End of week spelling test - please find spellings above.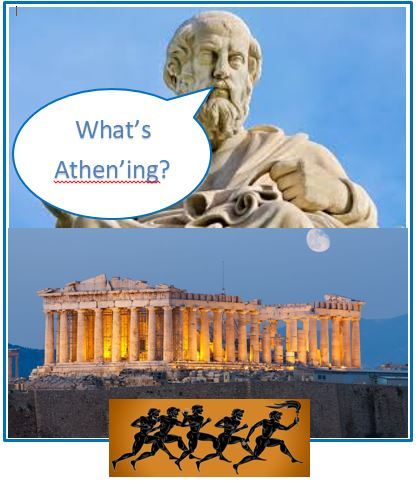 Maths:
Maths homework this year will be based around the children learning and developing their knowledge of the key mathematical concepts for Year 4. We have introduced these concepts through our very own Tiki Totem Trials which we will test the children on in school when they are ready. It will be up to the child to sign up once they are confident with the Trial they have chosen. We will encourage any child who we think is capable of achieving a Trial but hasn't put themselves forward to give it a go. Find below the Trials for Year 4:
Our maths teaching is a mix of direct teaching of concepts and facts followed by the opportunity to use them to problem solve and demonstrate knowledge with activity sessions.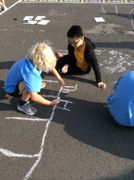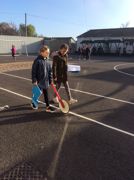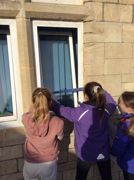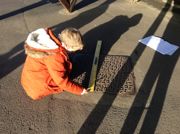 Mill on the Brue 2021
We are delighted that Mill on the Brue (MoB) has been rearranged for September 2021. Here are the links to the letter and the information sent out.
This is a fantastic opportunity for your child to experience a short (2 night) activity based residential not too far from home. The activities help to foster greater confidence in their abilities as well as develop team building skills. The residential nature of this experience allows the Year 4s to develop their independdence with daily tasks.
All children from previous years have loved the opportunity and have returned home exhausted from the fun and games!
Learning in Year 4:
Term 5

- Electrickery!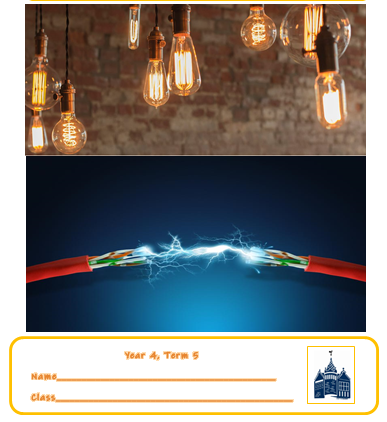 This term we are expanding our Science topic on electricity to look into it in more detail. We will discover some of the history of electricity and research other more eco-friendly forms of power. We will be creating lightbulbs in our art lessons by developing our sewing skills and we will become electrons in PE to get active.
Our novel for the term is The City of Ember by Jeanne DuPrau.
Our Spectacular Start chellenged the children to design and build their own buzzer game thereby understanding how an electrical circuit works in a fun activity.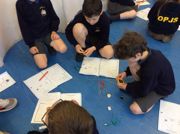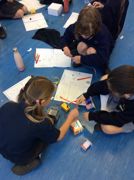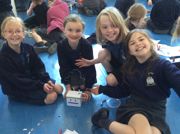 Ter

m 4 - 3...2...1...Blake Off!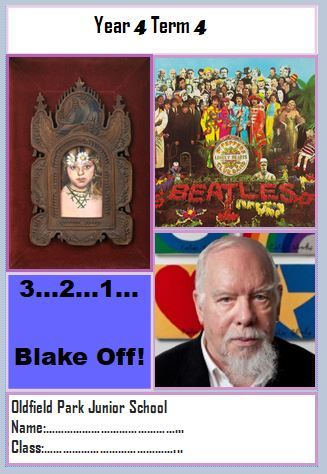 This term saw us dive into the art of Peter Blake, inparticular his painting Daisy Fairy, housed in our local gallery, The Victoria Art Gallery in Bath.
We wrote newspaper articles based on the heist of this famous painting, developed our art skills drawing fairies and flowers, we looked at the history of fairies and considered if the famous Cottingley Fairies of the early 20th Century were real or a hoax.
We used the novel Alice in Wonderland to develop our reading comprehension skills.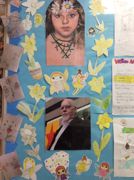 Term

3

-

River

of

Dreams

Whilst home schooling we looked at our topic of rivers. We developed knowledge of the key vocabulary used when describing rivers and their course. We focused on the water cycle and understood further where rain comes from. We encouraged our children to look at local rivers and streams on their daily walks.
We used picture books to inspire our writing in particular: The Rhythm of the Rain by Grahame Baker-Smith and A Planet Full of Plastic by Neal Layton.
For our Spectacular Start we created rivers out of junk modelling: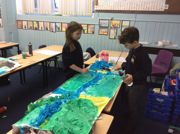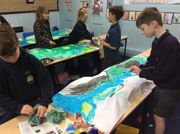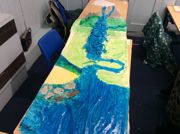 Term

2

-

MCCLXXIII

(1,273)

Miles

From

Rome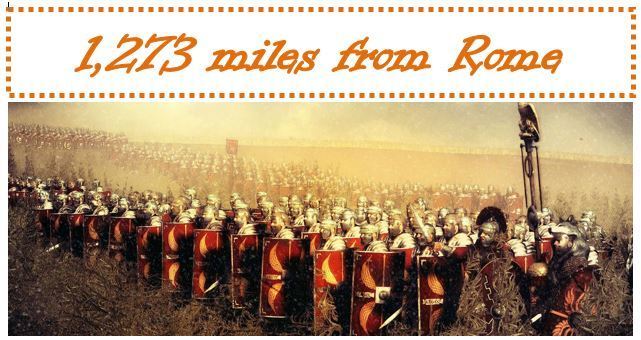 What an exciting term! We found out all about the Romans with a particular interest in our local Roman history of the world famous Roman Baths in Bath. We marvelled at their bathing traditions and enjoyed finding out about the army.
For a spectacular start we created a Roman Museum and the children were encouraged to find out some facts about the Romans for themselves.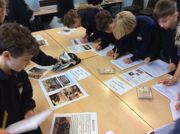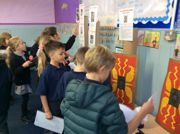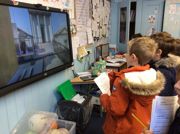 We inspired our writing and developed our comprehension skills with the novel The Thieves of Ostia by Caroline Lawrence.
In DT we got out the saws and glue guns and created wooden trebuchets which we then used in our Fantastic Finish to fire sprouts across the floor of our dining hall, utiising our maths skills to measure who's had gone the furthest!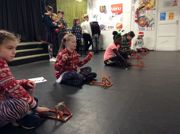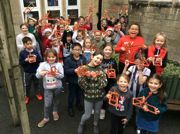 Term

1

2020-2021

Gainsborough's

Glorious

Bath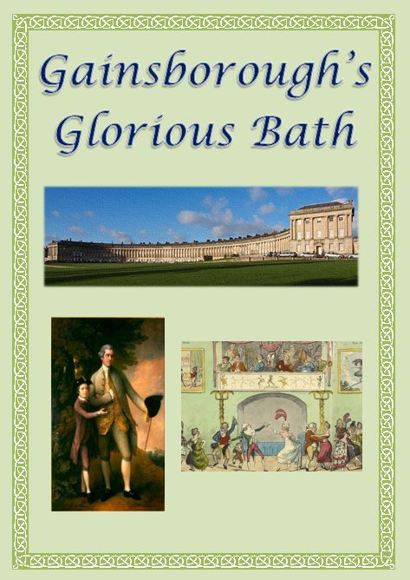 Our first term together as a year group found us studying our beautiful Georgian city of Bath and one of the famous painters of the era, Gainsborough, who lived in one of the most grandest of Bath addresses, The Circus.
We read Gulliver's Travels which was written at the time, and watched the movie later in the term to compare the story with a movie adaptation.
We also studied some black history from Georgian England with a focus on the life stories of Oluadah Equiano, Ignatius Sancho and Ottobah Cugoano. We used our oratory skills to present our findings to the year group.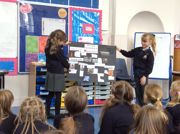 Due to Covid stopping school trips for now, we bought a local Georgian walking tour to our playground!
For art we created our very own Georgian portraits in the style of Gainsborough.
Outdoor Classroom
A Roman game: Delta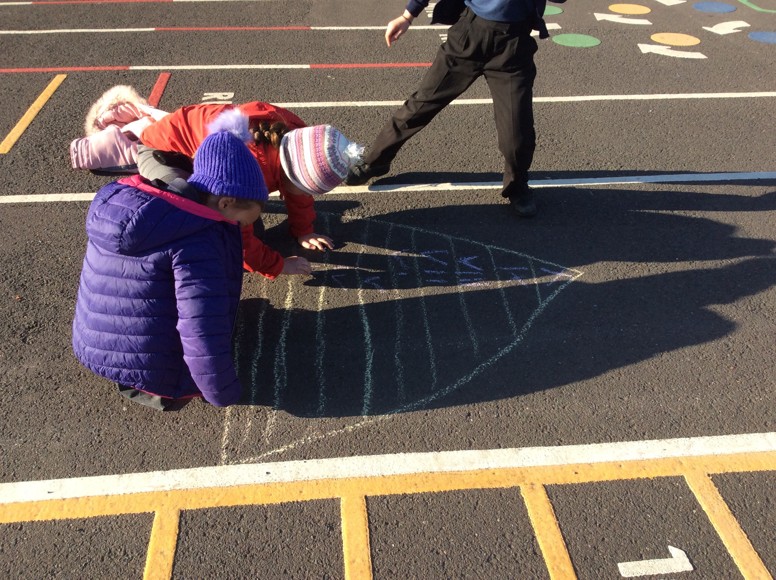 Forest School
Getting muddy at forest school...