VE Day Activity Week

Much of the world will celebrate the 75th anniversary of VE Day on the 8th May.
As part of our VE Day Activity Week starting Monday 4th May we have put together a range of activities that you can have a go at.
Do start with the History activities first as they will give you the information about what VE Day actually is. Then you'll be able to have a go at any of the other activities in any order that you choose.
Don't forget to end your week with a VE Day picnic in your front garden rather like a street party but following safe social distancing rules. Please send us photographs of your picnic as we love to see what our OPJS family gets up to.
Find out about VE Day first using this official powerpoint presentation from the British Legion.
British-Legion-VE-Day-Introduction.pptx
Or how about having a look on the VE 75 Day website that is full of facts, activities and moving videos which can be found in the video section below.
Now that you know about what VE Day is, see if you can become a History Detective:
In 1945 there were many street parties celebrating the end of the war. Take a look at the photo in this English activity and see if you can bring it to life:
Lower School (Year 3 and 4) English tasks:
English-1-Mindmapping-Speech.docx
During the War people were asked to not be careless with their words as anyone could be listening. When they wrote to each other their words would be censored (checked and removed) to ensure that they were not giving away any secrets about the War. Have a listen to this information gathered by the Imperial War Museum and see if you can be careful with your words:
Imperial-War-Museum-Challenge.docx
Many children were evacuated during the War from their unsafe city homes to more secure countryside homes. They lived with people they did not know, away from their own parents and sometimes brothers or sisters too. How would you let them know that the War is over and they can soon return to their own families?
During wartime people did not have access to all of the shopping that they would have liked - much like we are all finding with toilet roll and hand sanitiser! They also used different money to us now. See if you can work out what money would have got you and how it compares with today:
Maybe you fancy yourself as a military commander? Could you organise the 1940 evacuation of our armed forces from Dunkirk? Your mission comes direct from Winston Churchill himself...
Maths-Command-from-headquarters.docx
Spot and predict patterns in VE Day decorations:
Do you think you can sort and name each country that was involved in World War II? Try your hand at this challenge:
Feeling creative? Make some bunting in the style of 1945 and use it at your garden picnic:
Art-VE-Day-Bunting-Bonanza.docx
Try your hand at a bitof Code Breaking:
Code-Cracking-for-Beginners-Morse-Code-Worksheet-1.pdf
Want to make some authentic wartime cooking:
Why not create your own paper Spitfire airplane and race around making airplane noises:
Why don't you have a go at making one of these instruments so you can celebrate in style!
Have fun learning this VE Day song 'Keep Calm and Carry On' from the Out of the Ark website (Week 7 - Friday Song) then have a go at the song activities.
https://www.outoftheark.co.uk/ootam-at-home/?utm_source=homepage&utm_campaign=ootamathome2&utm_medium=banner
Have fun designing and making a fighter plane!
VE Day Science and DT Growing for Victory!
In the 1940s there were several dance styles ranging from swing to those considered to be more rock and roll! Find out about them and see if you can copy some of the moves at home:
Why not have a go at Dan Snow's VE Day Challenge:
https://VE-vjday75.gov.uk/dan-snows-ve-day-challenge/
In this pack you will find recipes, colouring sheets and ideas for your VE Day party including games you can play with your family!
Read this booklet from Bletchley Park to get some more ideas for your VE Day party:
Take a look at this PowerPoint to help you with your party planning:
Find below an example of a VE Day timetable that includes the two minutes silence as well as Winston Churchill's speech. Furthermore do have a look at the link to the BBC to see what is happening on television and radio.https://www.bbc.co.uk/mediacentre/latestnews/2020/75-anniversary-ve-day#heading-childrens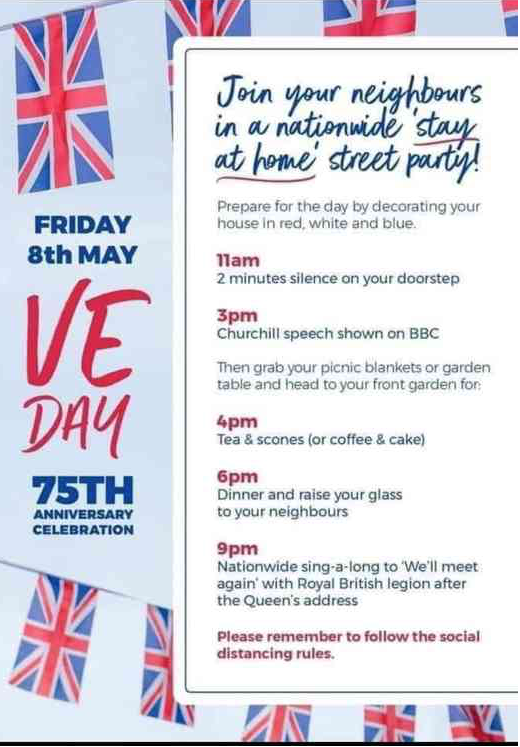 VE Day Videos
Here's two VE Day stories from Joy and Mervyn:
Here's a couple of videos all about VE Day and the celebrations:
Horrible Histories - Woeful Second World War Part 1
Here's some clips regarding WWII from the Horrible Histories crew:
Horrible Histories Woeful Second World War - Part 2